It's coming along!! I've only got 4 partial pages left to a finish! (3 half pages and a quarter, so 1 full and 3 quarter pages!) I have really enjoyed working on this! I'm so behind on Blogging this year!! I cannot believe it's been nearly 2 months since I last blogged! (ok, it's been 2 months and a day!) I have a new start, and progress on few pieces. I will have another new start tomorrow.( I joined the full Coverage Fanatics FB group, so that is why I have so many new starts, to go along with the various SAL themes.) Tomorrow I will be starting Moonlight Bay, by Kustom Krafts.
It looks like this: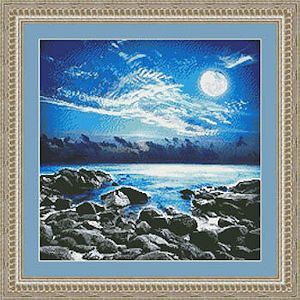 I'm super excited to start it! I love all the blues in this chart!!
Thank you for reading, Happy Easter, if you celebrate!! And I will try to get back here again to share what I've been up to again, before too long!